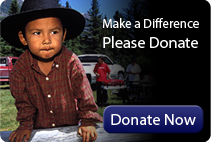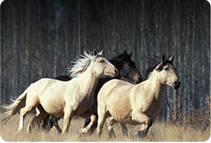 "Yes we can - for the good of all people and the world - we must protect our waters - our most precious resource on earth -

Keep that beautiful picture in your heart, mind and soul
Keep the land, water, animals and future generations alive in your heart, mind and soul
Keep it above the rest, above the negative business -
Thank you all for keeping it above all else - see it, believe it and we will achieve it! "
(Past Chief Marilyn Baptiste)
Friends of the Nemaiah Valley
This is a land of great mountains and pristine lakes, of wild rivers and remote forests, of grizzlies and black bears, wolves and wild horses, of moose, deer, fur-bearers, fresh water fish and wild salmon.
It is also a land constantly under threat from inappropriate and destructive industrial development.
As a bulwark against these threats, FONV works to support and strengthen a rich First Nations culture that has lived sustainably within this ecosystem since time before memory. This culture has many of the elements that can help direct the larger, global society toward a path of sustainability and away from a path that threatens global survival. We encourage and support these positive elements through our educational and other initiatives in partnership with the Tsilhqot'in people of Xeni.
Our work is informed by the understanding that healthy societies and economies can develop and thrive only within healthy environments.
To be on our email list for News and Events just send us an email.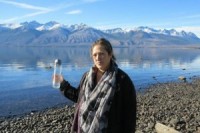 Councilor Marilyn Baptiste is the 2015 North American recipient of the Goldman Environmental Prize - the world's largest award honoring grassroots environmental activists that parallels the Nobel awards in their level of distinction and achievement. Marilyn has been a tireless defender of ...
Posted by Admin. Tuesday Apr 28, 2015 10:48
Categories: Activism, Environment | Tags: awards, Chilcotin, Marilyn Baptiste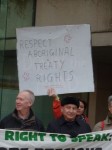 In late January, a defamation case filed by Taseko Mines against the Wilderness Committee (WC) began in Vancouver. Before a crowd of supporters, Joe Foy, WC's National Campaign Director, stated that the intent of Taseko's suit is, "meant to chill us out or to quiet us down, out ...
Posted by Admin. Wednesday Feb 11, 2015 13:12
Categories: | Tags: activism, Prosperity Mine
Wild Horse DNA Report: In early January, "A Preliminary Genetic Study of the Wild Horse in the Brittany Triangle" was released. This report, prepared for the Xeni Gwet'in First Nations, FONV (co-funders of the report) and the Valhalla Wilderness Society, was co-authored by ...
Posted by Admin. Wednesday Feb 11, 2015 12:58
Categories: Wild Horses | Tags: DNA, genetics, Research, Xeni Gwet'in