News
Knowing Naŝlhiny (Horse)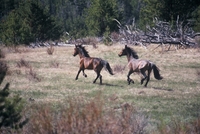 Dr.Jonaki Bhattacharyya has visited the Brittany Triangle a number of times over the past six years, making many strong friendships among the Xeni Gwet'in FN and being open to their teachings. Her doctoral thesis is now oline:
"Knowing Naŝlhiny (Horse), Understanding the Land: Free-Roaming Horses in the Culture and Ecology of the Brittany Triangle and Nemiah Valley".
"Free-roaming horses (Equus ferus caballus L.) – also called wild or feral – have been present in the Chilcotin region of British Columbia, Canada and part of Tsilhqot'in First Nations' culture for over 250 years. The horses, naŝlhiny in Tsilhqot'in, have also been a focal point for controversy and power struggles over land use in the same region for at least 120 years. Recently, the wild horses of the Brittany Triangle (called Tachelach'ed, near the Nemiah Valley in the territory of the Xeni Gwet'in First Nation) have been used by local First Nations and some non-governmental organizations as an iconic symbol to gain support for wilderness conservation. To some other residents and government agencies, free-roaming horses are invasive pests that threaten forage availability for cattle, range health, and native wildlife habitat. Little peer-reviewed research exists to elucidate the actual ecological impacts and social relationships of free-roaming horses in the particular ecological, cultural and political context of the Brittany Triangle, or to support management decisions concerning the horses.
"This research explores how scientific analysis, local knowledge, and socio-cultural perspectives regarding the ecology and cultural role of free-roaming horses in the Brittany Triangle can be integrated to inform conservation planning and land use management."
Posted by: Admin. Saturday Feb 18, 2012 10:59
Categories: Wild Horses | Tags: Brittany Triangle, ecosystem, Research, Tsilhqot'in, wild horses, Xeni Gwet'in