News
Category: Wild Horses
Page:

1

Wild Horse DNA Report: In early January, "A Preliminary Genetic Study of the Wild Horse in the Brittany Triangle" was released. This report, prepared for the Xeni Gwet'in First Nations, FONV (co-funders of the report) and the Valhalla Wilderness Society, was co-authored by ...
Posted by: Admin. Wednesday Feb 11, 2015 12:58
Categories: Wild Horses | Tags: DNA, genetics, Research, Xeni Gwet'in
How far will FONV supporters go? Kaite S. is running the Toronto Half Marathon in May to raise funds to support our work in defending the wild horses and their habitat. A long time supporter, Kaite decided she wanted to do more. "Hey everyone! I have decided to run the Toronto ...
Posted by: Admin. Friday Mar 23, 2012 11:05
Categories: Wild Horses | Tags: fundraising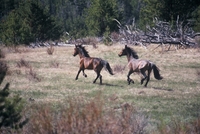 Dr.Jonaki Bhattacharyya has visited the Brittany Triangle a number of times over the past six years, making many strong friendships among the Xeni Gwet'in FN and being open to their teachings. Her doctoral thesis is now oline: "Knowing Naŝlhiny (Horse), Understanding the Land: ...
Posted by: Admin. Saturday Feb 18, 2012 10:59
Categories: Wild Horses | Tags: Brittany Triangle, ecosystem, Research, Tsilhqot'in, wild horses, Xeni Gwet'in
RSS feed