News
Tag: habitat protection
Page:

1

Here are links to the reports that FONV funded and presented to the 2013 hearings re "New Prosperity" mine. These cover implications of the proposed mine to: grizzly bears; cultural and social-ecological impacts on the region surrounding Teztan Biny; cumulative effects, watershed ...
Posted by: Pat Swift Wednesday Aug 28, 2013 11:05
Categories: Fish Lake | Tags: CEAA, ecosystem, environment, habitat protection, Mining, Prosperity Mine, rights and title, Teztan Biny, water, wildlife, Xeni Gwet'in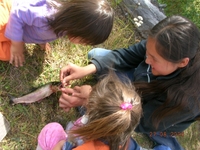 According to a document leaked last week, the federal government is now planning to remove the protection of fish habitat from the Fisheries Act. This change will be added to the new omnibus budget which is being released next week. It is our understanding that these changes are being made at ...
Posted by: Admin. Monday Mar 19, 2012 18:53
Categories: Fisheries Act, DFO | Tags: habitat protection, water
RSS feed