News
Tsilhqot'in Nation's report to the UN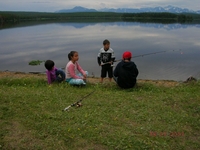 The Tsilhqot'in Nation has submitted a report ot the UN's Committee on the Elimination of Racial Discrimination:
Shadow Report by the Tsilhqot'in Nation on the denial of Indigenous peoples' rights in Canada with a focus on the Extractive Sector Operating within Canada
.
"The fact that this harmful megaproject remains a threat highlights a fundamental problem with Canada's relationship with Indigenous Peoples: the continued denial of our Aboriginal Title. Canada's policy to deny and fail to implement Aboriginal Title is the rationale behind Canada continuing to make decisions about extractive projects which threaten the extinguishment of constitutionally-protected Indigenous rights, and without the free, prior and informed consent of those Indigenous Peoples. The actions of the Canadian government are contrary to the minimum standards set out in the now endorsed United Nations Declaration on the Rights of Indigenous Peoples, especially the right of Indigenous Peoples to free, prior and informed consent when decisions are made which will affect our lands, waters, culture, rights and future generations."
Posted by: Admin. Saturday Feb 18, 2012 10:47
Categories: Tsilhqot'in | Tags: rights and title, Taseko, Tsilhqot'in, Xeni Gwet'in