News
Canada Water Week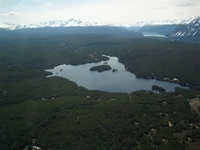 Real and potential threats to our water resources are increasing by our own government's weakened environmental protection regulations. It's somewhat ironic that Canada Water Week ends with it the Wilderness Committee's response to the
law suit against them made by Taseko Mine
.
On filing their defense papers in the Supreme Court of British Columbia, Joe Foy, Wilderness Committee's National Campaign Director, says,
"So what are we going to do about Taseko's court threat? We are going to speak out and write even more about how the proposed New Prosperity Mine must be stopped in order that the Fish Lake area can be protected and handed down to future generations.

"We believe that this court threat of Taseko's eats away at the very foundations of democracy and free speech that our society is based on. We have a duty to stand up to Taseko's bullying."

Any mining company can destroy a lake for its own benefit under Schedule 2 of The Metal Mining Effluent Regulations which allows healthy wild lakes to be reclassified as "tailings impoundment areas."
As Alan Casey writes in the Tyee article, "
Lake Killing Made Easy
", "
Since 2006, the Harper government has used Schedule 2 to sanction the destruction of no less than eight healthy, wild lakes or water bodies, and grandfathered another six already-polluted ones. Mining companies stand to gain enormous cost savings via Schedule 2 "exceptions." No need to build expensive tailings containments from scratch if the government will let you just dump your industrial waste in a nearby lake and be done with it......What began as handful of one-time exceptions is an emerging business trend. Alexander MacDonald of Nature Canada estimates that about one-in-six of Canada's metal mines have already sought protection under Schedule 2."
FONV continues to stand with the Tsilhqot'in people and other environmental and social justice organizations to protect Fish Lake, Little Fish Lake and their watersheds from destruction that is sanctioned by bad regulations.
Posted by: Admin. Friday Mar 23, 2012 11:37
Categories: Fish Lake | Tags: Fish Lake, Mining, water