News
No protection for fish habitat?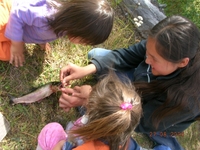 According to a document leaked last week, the federal government is now planning to
remove the protection of fish habitat
from the Fisheries Act. This change will be added to the new omnibus budget which is being released next week. It is our understanding that these changes are being made at the political level and have not been discussed with either the DFO or the public.
This information is contained in a Press Release issued by Dr. Otto Langer which can be read
HERE
.
In the proposed wording, not only will the word "habitat" be removed from section 35 of the Fisheries Act, there will be no reference to Harmful Alteration, Disruption and/or Destruction of fish habitat (HADD). As you know, the threat of damage to fish habitat triggered the environmental assessment for Taseko Mine's open pit gold and copper mine. Since this key trigger will no longer exist, fish bearing lakes, streams and rivers will be at greater risk from run-of-river projects and toxic tailings from mines.
Earlier this year, the federal Court of Appeal ruled that
Orca Habitat is a Legal Duty
and that the federal minister of fisheries has no discretion when it comes to protecting the critical habitat of B.C.'s southern resident killer whales. The protection of species habitat is essential to the protection of the species itself. They are inseparable.
This proposed gutting of the Fisheries Act will have severe and negative consequences for future generations. Demand that habitat protection legislation remains in place. Take a moment to send an E-mail to the the following politicians.
Minister of Fisheries and Oceans, Keith Ashfield :
keith.ashfield@parl.gc.ca
NDP Critic for Fishereies and Oceans, Fin Donnelly:
fin.donnelly@parl.gc.ca
Prime Minister Harper:
stephen.harper@parl.gc.ca
Posted by: Admin. Monday Mar 19, 2012 18:53
Categories: Fisheries Act, DFO | Tags: habitat protection, water