News
Taseko Letter to Harper Government Released under Freedom of Information Act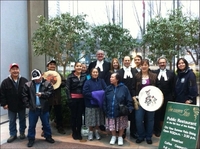 A letter from Taseko Mines Limited President and CEO, Russell Hallbauer, was made public this week. The letter was obtained under the Freedom of Information Act and shared with the media by Bob Simpson, B.C. Independent MLA for Cariboo North.
The letter was written last November, 2011, following the news that a new CEAA review panel would be appointed for the "New Prosperity" Mine. The "inflammatory letter" (Bob Simpson) is addressed to Environment Canada and lists concerns about bias on the previous panel and the "inappropriate" attention given to native spirituality.
The letter can be read
HERE
.
Posted by: Pat Swift Tuesday May 01, 2012 14:02
Categories: Taseko | Tags: aboriginal, Prosperity Mine