News
Supreme Court of Canada to Hear Tsilhqot'in Title Case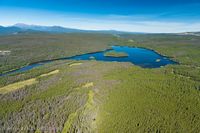 The Supreme Court of Canada has just agreed to hear the "William case" for title over traditional Tsilhqot'in territory.
In the original "William case" for rights and title in 2007, Judge Vickers ruled that the Tsilhqot'in people had proven rights to the territory claimed in court and also a right to claim title to a large part of that land, including the Nemiah Valley; citing a technicality, he stopped short of granting title. This ruling was appealed by both levels of government and plaintiff, Roger William (i.e. Roger William, on his own behalf and on behalf of all other members of the Xeni Gwet'in First Nations Government and on behalf of all other members of the Tsilhqot'in Nation). After hearing this case, in 2012 the B.C. Appeal Court upheld the rights judgement of 2007 to hunt, trap and trade in their traditional territory but said that title could be claimed only to areas that were specifically occupied or used "intensively" and not to the broad lands between those areas that, to a "semi-nomadic" people, are integral to those very hunting, trapping and gathering rights. This is the "postage stamp" approach to aboriginal title that the William case opposes.
"For us, the Court of Appeal denied the legitimacy of our laws, our ways of life, who we are as Tsilhqot'in people," said Chief Joe Alphonse, Tribal Chair and Chief of Tl'etinqox-t'in community, "We're grateful to have the opportunity to present to the Supreme Court of Canada a different path to reconciliation. And we are honoured to stand with the support of First Nations across British Columbia and Canada. Together, our voices will be heard at last".
This is likely the most important aboriginal land claims case since the Delgamuukw decision in 1997. That decision recognized that such a thing as aboriginal title existed and continues to exist in theory but did not declare that the Gitxsan and Wet'suwet'en peoples had title to their claimed territory in that case. In the intervening 18 years there has been no recognition of what First Nations have been asserting all along, the recognition aboriginal title on the ground.
"We never gave up our rights or title and further proved our Aboriginal rights and stopped forestry in that critical part of our homeland. That is something to celebrate," said Marilyn Baptiste, Chief of Xeni Gwet'in. "But this is not complete for our people. At the Supreme Court, we will continue to tackle the most important issue for us and for ALL First Nations – our Aboriginal title to the land".
The importance of the William case cannot be overestimated as it raises one of the most central issues of indigenous rights that exist in Canada: what land rights do First Nations hold today over the lands they controlled before the Crown asserted sovereignty? The way this question is answered will determine the place of First Nations in Canadian society, the extent to which they will control their own future and the shape of Crown-First Nations relations for decades to come.
"We are truly grateful for the many Tsilhqot'in Elders that showed the courage to share their knowledge at trial, in our Tsilhqot'in language," said Councillor Roger William, the plaintiff in the case, "Many of them are no longer with us today. They would be proud and honoured to know that their case will be heard by the highest court in Canada."
It is expected that this case could take a year to get to trial.
Posted by: Admin. Saturday Jan 26, 2013 14:16
Categories: Court case | Tags: aboriginal, Chilcotin, rights and title, Tsilhqot'in