News
Tsilhqot'in Chiefs in Ottawa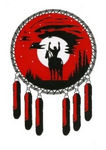 Ottawa: Oct. 8, 2013: B.C.'s Tsilhqot'in Nation is calling on the Harper government to listen to its own scientists and ignore the political lobbying by Taseko Mines Ltd. (TML) and the mining industry that could undermine the Environmental Assessment process in the case of the latest bid to create a massive, but very low-grade ore mine at Teztan Biny (Fish Lake).
"We are in Ottawa this week to try to make sure the government understands that the environmental and Aboriginal rights and title issues have not been solved by this new mine proposal, which is as bad, and according to the company's own prior statements, even worse than the previous one," said Chief Roger William of Xeni Gwet'in First Nations Government.
The entire News Release
HERE
.
Posted by: Admin. Tuesday Oct 08, 2013 07:47
Categories: Fish Lake | Tags: environment, Fish Lake, Ottawa, Prosperity Mine, TNG