News
Historic Meeting on Traditional Tsilhqot'in Land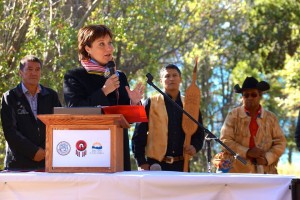 September 10, 2014. B.C. Premier Christy Clark and Minister of Aboriginal Relations, John Rustad, met with the Tsilhqot'in Chiefs, on traditional Tsilhqot'in land, marking the first time a B.C. Premier has agreed to meet with the Tsilhqot'in Nation on their territory. The purpose of the meeting was to sign a Letter of Understanding (LOI) between the Chiefs and the province of B.C. The ceremony took place at the traditional camp on the shores of Chilco Lake and was witnessed by the leadership, elders and many community members.
The LOI sets out how the Tsilhqot'in and Province will work together to:
Redress issues of the past, including the wrongful trial and hanging of the Tsilhqot'in Chiefs in 1864-65;
Begin the immediate work of the present, by establishing tables that will work together to implement the court's decision; and,
Move into the future with longer-term reconciliation initiatives that explore economic opportunities, and improve the health, education and socio-economic well-being of the Tsilhqot'in people.
photo by Jesaja Class
The complete LOI can be read
HERE
.
One of the stated goals is to achieve a Protocol Agreement by March 31, 2015, which will set out a comprehensive framework for negotiation in order to reconcile the rights, interests and goals of the Tsilhqot'in Nation and B.C. in Tsilhqot'in territory.
Posted by: Admin. Friday Sep 12, 2014 10:37
Categories: Tsilhqot'in | Tags: Christy Clark, meeting, rights and title, Tsilhqot'in